About Live Stream Design (Text)
See also the video about Live Stream Design
On this page:

About Live Stream Design: Main Characteristics
Design in live streaming video
Live Stream Design is where a designer is creating the design for a new product, and streams the creative process on the Internet in a live video, with his live audio commentary.
The audience can influence
The audience that has access to the live video broadcast can watch the process, and can comment, critique, suggest, vote, express wishes or make requests. The designer can respond seamlessly to these in real time at will. Thus, the design has an uncertain outcome at the start.
A form of entertainment
Live Stream Design is an activity that is partly in the domain of entertainment. Or it is a fusion of design work and entertainment. If it is not entertaning to watch (too long, too slow, too long where little is happening on the screen or nothing fun is being said), then most of the audience will not bother watching it. This means that a Live Stream Design session must be organised beforehand, so that it will be done and finished within a reasonable time frame, and that something is happening that makes it fun and exciting in its own way to follow, and watch again next time, and again…
The designer can invite a featured guest
Most of the time, the audience will be watching what is happening on the screen, in the design program on the computer, and the designer talks while it is going on, but the designer can also have a desktop camera or a video camera linked and switch between, for instance if there is a featured guest, and they want to chat about the work.
Choice of audience: One, several or everyone
The designer can decide who the audience is: A single customer somewhere on the globe, a selected group of invited audience in a member's only area on a website (for instance a closed group on Facebook, or a member's area of a website), or the general public in an open live stream event for instance on Facebook, Youtube or Vimeo.
Not in solitude
In previous design-production-sales etc. processes, it has usually been that the designer designs in solitude, and secrecy, in a rather quiet, lengthy process, and then the new product is shown in some way (a fashion show, a launch party, a large exhibition in an exhibition hall). Live Stream Design on the other hand brings the audience and potential buyers right into the core of the creative process itself, and allows them even to participate.
The creative process is the show
In Live Stream Design,
the creative process is the show
, rather than the creative process taking place first (in secrecy) and then there is the show.

Design is available right away
When the design is ready, which is within a reasonable amount of time so that it makes sense for people to watch the process to the end, the fresh, new design is uploaded to an online store setting on the Internet, and is made ready to buy. The designer can reward early buyers with a discount, or limit the availability of the product in terms of time being available or number of products available.
Made by order and drop-shipped
When a person buys a copy or copies, the order is sent immediately to production in a manufacture / print-on-demand service, and then drop-shipped to the buyer when the product is ready.
Both 2-D and 3-D
It can be utilised both to create 2-D product designs that are printed on the surface of 3-D products, and to design 3-D objects that are 3-D printed, where the design takes place in a computer resulting in a digital product specification file of some sort.
Recording watched afterwards
A recording of the live event can be available, either the full recording or edited extract of it, and the product can be available to buy, as long as the designer or brand wishes.
Skill and following
The success of those doing Live Stream Design will be based on the skills, personality and fame/following of the designer or brand, which designers will possess in various amounts.

Couldn't be found
Extensive search on several major websites on the Internet showed the creator of the Live Stream Design method, that no one seemed to have done this before. Several variables in the process mean, that this is in fact
a new, potential business model
, and not just a feature tweaking.
Readily available
Live Stream Design is a method based on services and software that are readily, easily and relatively inexpensively available for most people, and cannot be patented or licensed.
Both 2-D and 3-D
Live Stream Design can be implemented both when designing products in a design program on a computer, where a 2-D design of shapes and forms is printed on a surface of a pre-defined product base, or a 3-D product is 3-D printed.
Favorable for the environment
Live Stream Design has its own set of strengths and weaknesses, and may offer characteristics that are favorable for the environment and carbon footprint.
Fast and fluid
Live Stream Design is fast, fluid, responsive , and the audience or customers can be empowered as part of the design process in a way that has hardly been seen before.s

Further characteristics of the business model
Can take a very short time
The fulfillment process will take a varied amount of time, based on the manufacture/print-on-demand service's production process set up, but potentially the whole thing can take a very short time, even within 24 hours, but one can also expect several days or even a month when the delivery is via ordinary shipping to a remote, international location.
No physical prototypes needed
In Live Stream Designing, there is no making of physical prototypes to show, so that the product can be sold. The products are configured in such a way that they can easily be shown on a computer screen.
No inventory
There is no manufacturing of products and then sending them to stores, where they will be waiting for a buyer. The product is made "on demand" when the buyer has bought it and paid for it. There is thus no investment in inventory, and no unsold products to discard at the end of the season. The designer can be located in one place, and then the piece can be produced much closer to the buyer, given that a production facility exists closer to the buyer. This reduces transportation needs.
Potentially good for the environment
All these factors are potentially beneficial for the environment.

Not bound by certain seasons
The design process can take place at any time, and is not necessarily bound by the spring-summer/autumn-winter model in fashion, as an example, which is partly an arrangement to make mass-production economical.
Laser-targeted customization
It is possible to create custom designs laser-targeted for a particular buyer, buyer group, event, time, place etc. The designer can respond directly to the customers' wishes with great flexibility.
Applicable in many fields
This method can be used in fields such as fashion, personal accessories, home decoration, and many other fields where printing patterns and colors from a digital file, or 3-D printing shapes are applicable as production methods.
A fair variety of product templates are already available
Print-on-demand services are already offering quite a good variety of standardized products, where a design is printed on the product in one piece at a time, and then drop-shipped to the buyer. The variety of products is increasing steadily. 3-D printing services are developing also, and it may be possible to design and offer simple products already, although 3-D design and 3-D printing is not the specialty of Sverrir, the innovator behind the Live Stream Design method.
The future is bright
The future is even brighter: With emerging flexible manufacturing, computer aided design, machine learning, artificial intelligence, computer aided making of cuts for dresses, 3-D printing facilities in many places around the globe, and a myriad of technological developments in many shapes and forms in the digitalized, computerized, design-printing-manufacturing space, then the limit in the different types and complexities of products that could be designed and offered in Live Stream Design is really far away, in the future.
A new option for designers
Live Stream Design will not become a new "Holy Grail" of designing products, pushing aside the previous model of "design first, show then". Not all products are interesting enough so that people will want to watch when they are designed. But Live Stream Design, just like live music or watching a chef cook our dinner, can offer some new, exciting and enjoyable opportunities for designers and clients to come together and enjoy the creation of an interesting design. Live Stream Design is well suited for personalising products, and to respond seamlessly to personal wishes and whims.

Will people be interested?
So Live Stream Design sounds like a nice idea, but will anyone be interested in watching a designer create a design on a computer screen, in a live video? And then watching recordings of the most popular ones afterwards? Who would be interested in that? At the moment, of course, no data exists on that. It 's a new genre, newly defined, that didn't really exist before.
However, we do know that people are interested in design and fashion. That is obvious. And videos of the making of arts and crafts projects are very popular also.
Sven gathered information about the most popular videos in various types of arts, crafts and design on Youtube. Below are data where the total views of the five most popular videos were taken, and the average views calculated.
For the most popular video type that he checked, henna design (painting patterns on hands using henna colour), the five most popular videos got 26, 22, 17, 15 and 15 million views each video, or an average of 19 million views per video.
Here are the numbers for the 40 most popular arts, crafts and design categories:
Henna design: Average views of 19 million of each of the five most popular videos (or 95 million views in all of the five top videos about henna design, combined).
Making nail art: 17,6 million.
Pencil drawing: 17,5 million.
Making sand castle: 16,2 million.
Water marble art: 13,8 million.
Artist painting: 13,3 million.
Sand art: 12,9 million.
Drawing with 3d pen: 8,8 million.
Pottery: 7,5 million.
Colored pencil drawing: 7,3 million.
Wood carving: 7,1 million.
Wood turning: 7,1 million.
Calligraphy: 6,3 million.
Blacksmith: 5,9 million.
Glass blowing art: 5,7 million.
Tattoo design: 4,9 million.
Drawing face: 4,7 million.
Drawing people: 4,6 million.
One stroke painting: 4,3 million.
Making sculpture: 4,2 million.
Draw a cat: 4 million.
Ice sculpting: 3,8 million.
Bob Ross joy of painting: 3,7 million.
Portrait painting: 3,7 million.
Charcoal drawing: 3,4 million.
Chalk drawing: 3,3 million.
Fine art painting: 3,3 million.
Watercolour painting: 2,6 million.
Draw figure: 2,5 million.
Draw a dog: 2,4 million.
Make Jewellery box: 2,4 million.
Drawing flowers: 2,4 million.
Ceramics: 2,4 million.
Painting a rose: 2,2 million.
Make Jewellery: 2,2 million.
Draw a rose: 2 million.
Pen and ink drawing: 1,9 million.
Landscape painting: 1,9 million.
Oil painting: 1,8 million.
Copic marker illustration: 1,8 million.
The total number of views that all videos are getting, in a category, are obviously very large. There are even tens of thousands of videos posted in a category, so views for a category are in the billions.
Videos of this kind are popular also on Facebook. However, these cannot be easily ranked according to total number of views. The same video is often posted by many Facebook profiles. But as an example, a video of a "one stroke dragon painting" was posted many times. The three most popular postings of that single video got a combined number of views of 68 million views.
Enough said. It should be obvious that there are millions of thirsty consumers, more than willing to watch videos of artistic projects being created, (or in many of these videos, a tutorial showing an artistic project being created to learn how to create those).
But for Live Stream Design, no data exists, because the genre didn't exist before. 
And Live Stream Design is mostly conceived to create an event where people watch a new product design being created, with the idea that a part of them will buy the product afterwards.
But of course, it is also possible to set up videos, to teach designers successful strategies of how to do Live Stream Design sessions.
What will the future hold, if designers try this new method, and continue it?

Financial outcome scenarios
The sectors of industry, where designers might choose to use this way of organizing their work and their communication with the market, do have a total global turnover of several US$ Trillion. For instance, the fashion industry has a global turnover of around US$ 2 Trillion, and the personal luxury sector is at around US$ 400 Billion. Home decoration is very large also.
But is impossible to give any sane forecast on "how big" the Live Stream Design method could possibly become in the future. It is entirely speculative at this point.
However, if you analyze the difference between the conventional way (design first, show then, then sell) and this new Live Stream Design method, then Live Stream Design completely changes the game in many respect, and offers new opportunities in the interaction between creator and consumer of the created product that are very interesting and exciting indeed. Many, both designers and consumers, might enjoy to have access to this way of discovering and buying new products.
Here are a few possible scenarios for possible financial outcomes, which Sven made up from the top of his head. They are not forecasts, but examples of how implementing Live Stream Design sessions might come out.
Scenario 1:
An event is held to support a good cause. It is both on television and on the web. A designer and an A-List movie star sit by the computer and the designer creates artwork according to wishes of the movie star, while chatting away and with the hosts of the show. It is an hour long Live Stream Design session. The artwork will be offered on several types of products, and the viewers can order the products right away. After the event, the products are available for a limited time. The price premium is 30-100 $ on the product. 3000 pieces are sold with an average price premium of $60, netting $ 180,000 for the good cause.
Scenario 2:
A well known, premium designer brand has weekly Live Stream Design sessions where its artists create various types of products, often cut-and-sew, all-over-print types. Those who are signed up on their email list and have liked them on social media receive notifications a day in advance, and again 6 hours and 1 hour before, and right when it starts. Sometimes, well known individuals, and the brand ambassadors are featured guests. Sometimes the sessions take place in exotic locations, and sometimes in the brand's headquarters or stores, even at parties and gala events. Some of the products are available for a long time, while others have a limited availability, or are available for a limited time, and thus can become collectibles. Over the year, this profit unit adds considerably to the brand's bottom line, creating sales of over 50 million USD. (These scenarios can be for different types of clients and cultures, from street wear to upper class styles, and also with different total sales for the department, of course).
Scenario 3:
An art school student designs artwork for several t-shirts in a Live Stream Design session, which the students promotes among friends, family, at the school and through social media accounts. The t-shirts are priced at $37, but cost $15 to make. The student manages to sell 25 pieces and nets $ 550.
Scenario 4:
A high fashion house runs a service offering custom creations for ultra-rich clients, in one-on-one sessions between the in-house artist/designer and client. The Live Stream Design sessions are confidential, and others don't get access to what is going on. The one-off creations are often for dresses or blouses, where fabric is printed and the a garment sewn afterwards, although the cuts and craft of the garments are more in line with ready-to-wear rather than haute couture. The works are considered near works of art or paintings, rather than mass produced designs, and the value is in that. Since there is less workmanship required than in haute couture, this service is profitable, rather than a loss-making operation like haute couture. The client specifies the colours, styles, inspirations, that the client likes. Accessories are also made, like scarves, which are both bought for the client to wear, but are also popular as gifts. A scarf can cost 1,000-5,000 $, depending on the level of uniqueness and work required for its creation, and bespoke design for a dress fabric plus the tailoring work can be in the 3,000-15,000 $ range. The artists (few or many according to season) work on shifts 24 hours a day, since the clients are all around the globe in different time belts.
It is of course possible to set up all kinds of different scenarios like this. All one needs is imagination. But these four show that the uses of Live Stream Design can be very diverse and alive, and can give audiences and clients unique experiences of a kind that weren't available before.

Comparison of previous business models and Live Stream Design
The following images show the difference between the best known business model, in this instance in fashion but it can also describe other fields, and the new Live Stream Design business model.
Cascading pattern and time periods in the conventional model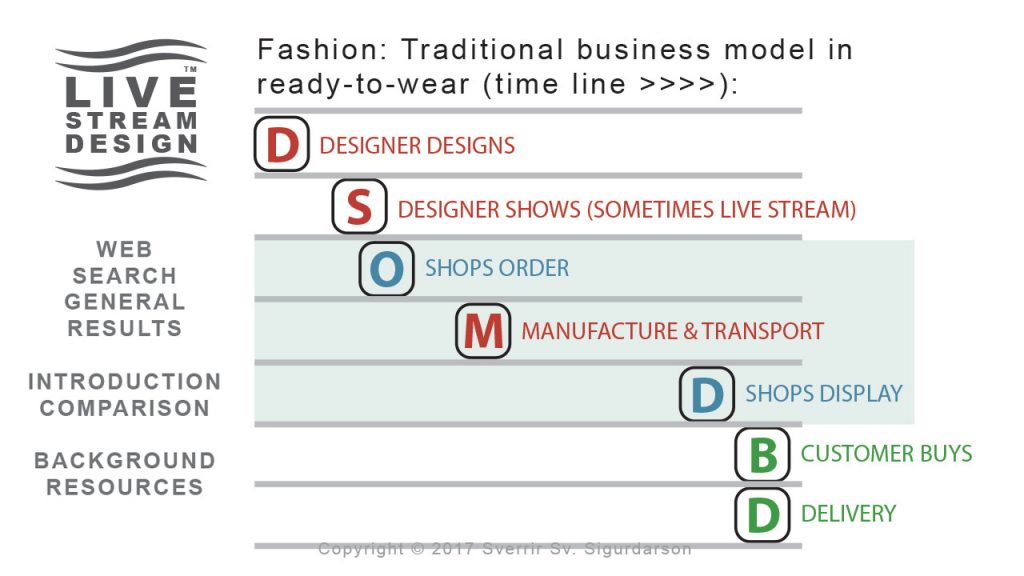 In the conventional model, the process is in a cascading pattern, where the designer or design team first designs the products (often in utter secrecy), then shows it, then the store buyers can order the product (or individual buyers order), then it is produced and shipped to the store, where the buyer can look at the products and buy the one that tempts the most. It is a one-after-the-other process. This process can take many days, weeks or even months.
Live Stream Design: Merges into one live event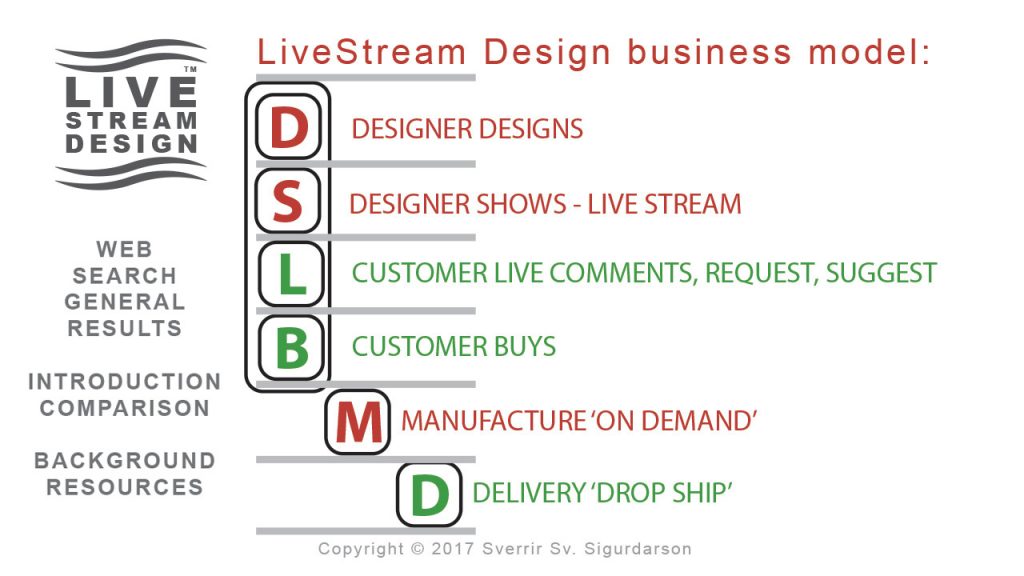 In Live Stream Design, the designing of the product, taking comments from the audience or buyer, showing it and offering it for sale merges together into one event that happens simultaneously. It all happens in one go, perhaps within the same hour or even half an hour. The production of the piece that is bought can potentially start right away, and will be delivered to the customer as soon as possible. As the image shows, the business model, or process flow chart, and the sequence and timing of events in Live Stream Design is markedly different in fundamental ways.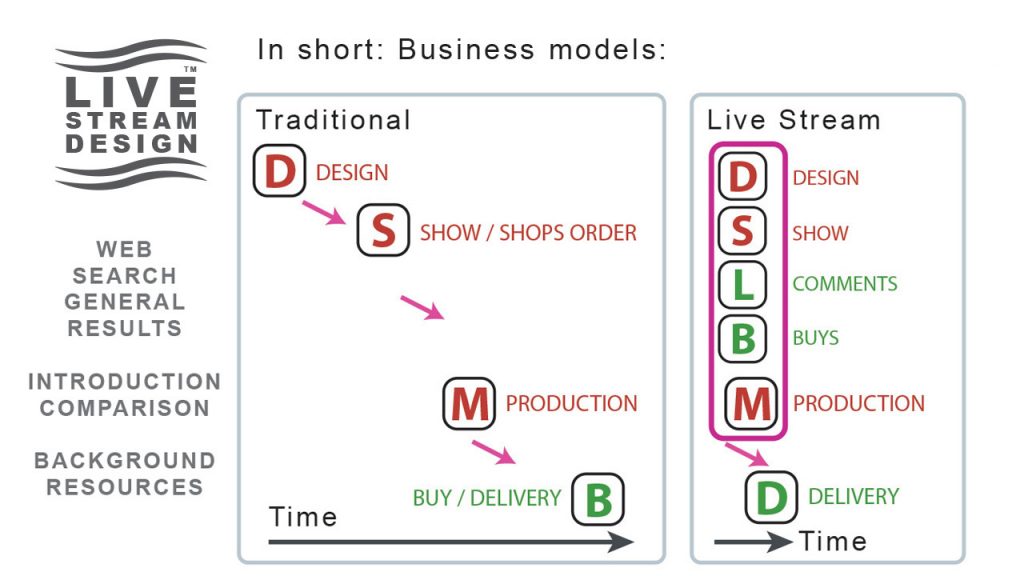 Faster than fast
One of the problems that at least the fashion industry has been facing is in copying. Fast fashion copyists have been able to copy new styles, and even bring their knock-off products at a lower price to the market before the original designer manages to bring his or her product out. This is shown in the following image.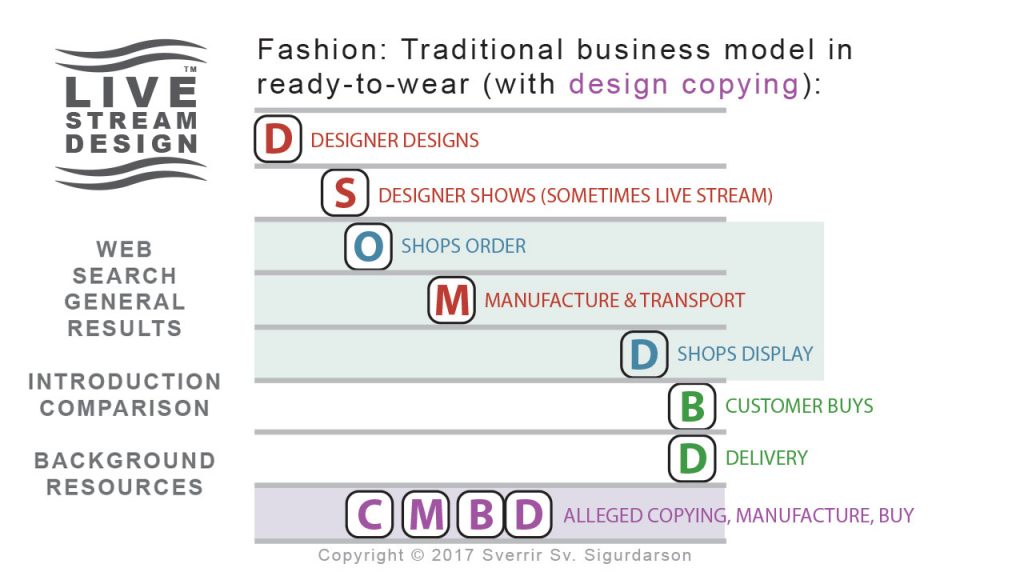 Although it is unclear what would be the effect of the Live Stream Design business model, since the concept is just in its infancy when this text is written here, then it can be pointed out that Live Stream Design is an ultra fast process, where the new and freshly designed product hits the market right away. It is impossible for copycats to arrive with their knock-off product before that. With Live Stream Design, it may also be possible to offer "fingerprint" products, i.e. products where small features of a product, for instance color combinations, are customized down to the level of the individual. Each custom version is then produced in only one copy, for one customer. That creates a more unique product, and personalization. This is very difficult to copy.

Where did the idea come from?
In the fall of 2017, Sven Sigurdarson was working on setting up a new designer brand that would offer designer products in the art styles of the Nordic Vikings of the Viking age. The products would, at least in the beginning, be produced by print-on-demand services, and the designs would be 2-D artwork designed on a computer in the Adobe Illustrator and Photoshop programs.
A potter and a DJ
Sven had seen live videos on Facebook and Youtube. One of them was a potter in the US, Joel Cherrico, who was creating pottery and thousands were watching. The other was the Canadian electronic dance music DJ star Joel Zimmerman, better known as Deadmau5. Sven saw a video where Deadmau5, in a live video broadcast, was discovering a singer named Chris James, who had created vocals for a new instrumental song that Deadmau5 had created just before, named The Veldt. Millions of people had watched recording of the live video. More than 500 thousand people had watched a recording of the original, hour long live video where Deadmau5 was creating the original song, even if the video is rather un-eventful, with Deadmau5 sitting by a computer and turning his back on the camera, silently, much of the time.
Why not stream the design process?
Sven got the idea, that it might be a fun idea to live stream the process, where he would be creating new and new color combinations of product designs that he would have created in Illustrator and Photoshop. These would be product templates, created by him, that could be colored fast and easily.
The actual tracing of forms and creating a template would, however, be too slow, long and uneventful to be suitable for live stream broadcast. But the colorizing work could be fast, and he might even allow the audience that would hopefully be watching, to comment and suggest colors, and decide if a color combination was good enough or not.
It could also be possible to create custom designs for one customer, in a one-on-one session in a live broadcast.
Naturally, Sven assumed that someone must have tried something similar, and went to Google for a search. He wanted to see what others were doing, how they were doing it, and try to see indication of how successfully they were doing it. After a short search, he did the long search described above. It seemed he had hit on an idea that no one had done before.

The first Live Stream Design session
On the evening of December 30, Sven held the first Live Stream Design session. It was in a Facebook live video. The session took around one and half an hour, and was divided into these parts:
The first fifteen minutes were a short lecture, explaining the art and artisan works of the Vikings, and the fact that animal motifs were the most popular decoration among them, rather than flowers, landscape, people, the sky, and so on. Sven had already prepared templates so he could set the colors for a fairly complex and quite beautiful scarf design, and he decided to simply dive into it.
He explained that for about five minutes, and then a full hour went into designing the colors of the scarf, while chatting away and explaining the work. He was doing this for the first time, so some things took some time. He saw how he could speed up certain factors in later Live Stream Design sessions.
When the design was finished, in the last fifteen minutes he saved the work and uploaded the digital illustration into the website of the service that makes the scarves, in Canada. Another version of the scarves will be made by a company in the US. Around fifteen minutes went into uploading the product into the website, linking it with the Look: Viking! Shopify store, putting in text and setting the prices for the different versions of the scarf, twelve versions in all, and then to introduce the time limited, declining discount code that viewers could use. The product was available for sale in the Shopify store of Look: Viking! on the domain lookviking.com, right while Sven was ending this first Live Stream Design session.
The live video was streamed on the Facebook page of his new brand, Look: Viking!, which had 55 likes after the first four days of Facebook ads, but he had opened the website of Look: Viking! on December 20 for the first time. The designs were advertised on Facebook, and he made a couple of sales.
He did not advertise this Live Stream Design session, and he actually didn't want a large audience, since he was doing this for the first time (and quite likely, this was the first live session of its kind in history, anywhere).
Facebook showed the live video into the feeds of people who had liked the page, and around 20 people took a peek at one time or another. Sven finds it unlikely that anyone watched the whole, unannounced streaming session to the end, for more than one and half an hour. Especially not at the end when he was inserting text and setting prices and that kind of thing, and nothing was happening on the screen and he wasn't saying much for perhaps a minute at a time.
This first Live Stream Design session was a success, technically. All went well and no glitches came up. There was no sale made at the end of the streaming session, but that was perfectly okay. He wasn't expecting it. Sven will be able to do this faster the next time, and hopefully make it even more interesting. Sven has a university degree in business administration that takes four years of study to finish, and he can evaluate and analyze the process, using methods like SMED (single-minute exchange of dyes, a method developed by Toyota in its plants), TQM (total quality management), re-engineering, process analysis and process re-design.
Look: Viking! is a brand new brand and has little following, and isn't known in many places. Thus, Sven wasn't expecting a smash hit right in the first time, and one should not judge the Live Stream Design method as such, based on what came out of this first try.
This first Live Stream Session, where Sven created the color scheme for a scarf, can be watched on the web livestreamdesign.com. Sven borrowed the color scheme for the scarf from a photograph of three characters in the popular TV series The Vikings, but didn't show it in the video. The photo is here if anyone is interested. It shows Ragnar Lothbrok, Queen Aslaug and a female character named Yidu.
The live streaming session is in three versions:
A 1 minute very short extract.
A 58 minutes long edited video of the full design process, where the dead parts were cut out, especially in the last part.
The full Live Stream Design session can be seen here on Facebook.
Here the scarf is for sale on the Look: Viking! website.
The first part of the session, where Sven was explaining Viking art for 15 minutes, isn't part of the videos above, and can be watched here.

Live Stream Design brands
Currently, one brand is using the Live Stream Design method.
That is Look: Viking!, the viking-age styled designer brand founded by Sven (Sverrir) Sigurdarson.
You can see the line of Look: Viking! at the website www.lookviking.com.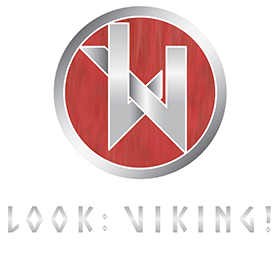 Further information
The idea is that this website, livestreamdesign.com, will post selected Live Stream Design sessions, and offer information and advice for those who would be interested in trying out this method.
The exact way how this will be orchestrated is still under development, and will probably evolve as time passes, as one would expect.
If you who read this would like to come with suggestions or assist, you can contact Sven at sven@livestreamdesign.com.
You can sign up on the email list, and receive email notifications about up and coming Live Stream Design events, about new events posted on the website, and notable information about new things in this brand new field. Feel free to drop your email on the email list (your email is safe, it will not be sold or rented or .. etc. etc.) Sign up here below.
That's about it, so far.
I hope that you are as excited as I am about this new method of Live Stream Design and the promise it may hold in the future.
Hope to hear from you again.
Sverrir Sveinn "Sven" Sigurdarson
Innovator of Live Stream Design, founder of livestreamdesign.com